Hope Street
A progressive pilot project for women in the justice system.
Hope Street in an innovative project for charity, One Small Thing, located in Southampton. It is a progressive pilot project that supports a healing trauma service for women caught up in the justice system that applies trauma informed design. But what is trauma informed design and how is that seen and evidenced at Hope Street?
The Hope Suite, where the healing and counselling programmes take place. It is the only space where the CLT structure is left fully exposed, adding to its tranquil nature.
"The responses to the building carry on being overwhelmingly impressive and positive, often with people not quite believing it. What you have designed is truly wonderful"
Lady Edwina Grosvenor, founder of One Small Thing
Buildings communicate
Trauma informed design starts with recognising that all buildings have an effect on people and communicate all the time. They communicate what is considered important, how people should be treated, who is in power, how you should behave and if people can be trusted, amongst many other things. What is particularly significant with trauma informed design is that those who have suffered trauma are more susceptible to picking up on these cues and will have triggers that take them back to past traumas.
It is known that distress turns off the prefrontal cortex in the brain preventing critical thinking and rationality*. This keeps people in survival mode reducing concentration and their ability to engage with healing from past traumas. How we design buildings that better serve these users has been our goal at Hope Street.
Building in experience
As trauma informed design is specific and intentional you must engage with who the building is for and understand their lived experience. What are the associations, traumas, triggers and perspectives they have and hold. Only from their perspective, fears and values, can you design in a way to replace negatives with positives such that the building is a tool in the work of healing from trauma.
As a project team we had the opportunity, through a series of consultations with women involved in the justice system, to listen, to ask questions, pose suggestions and listen again. This deep listening informed the design throughout the process.
Building trust
Building trust with the women enables the engagement with the healing trauma service and is a necessary first step. So how can the building and environment play a part in building and speeding up trust? What are the trigger factors that will prevent trust and create associations with places where the women weren't trusted, or shouldn't extend their trust and so put up barriers? What could facilitate the space for women to witness something that can be trusted? First impressions of Hope Street are going to matter, and the building is on the front line in this respect. The building is homely, domestic in scale and welcoming. It challenges preconception of what a building in the justice system should and could look and feel like.
Hope Street nestles unassumingly into the street scene.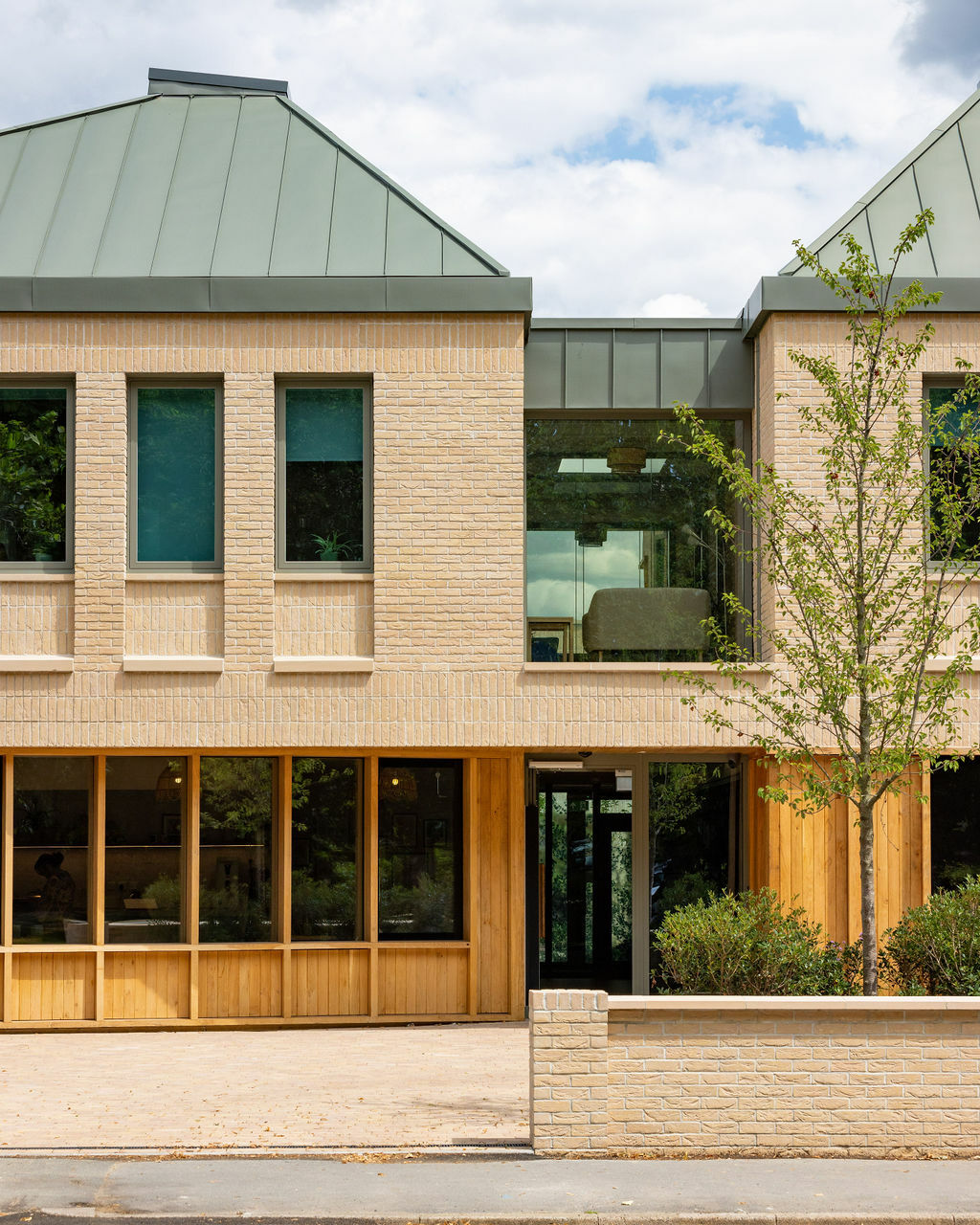 Building a home
With the Hope Street project team we have conceived the project first and foremost as a home not as an institution. An institution is where you are processed as a number and depersonalised. A home is where you are safe, belong and form relationships.
If a building can aspire towards meeting Maslow's higher order needs of belonging, community and self-esteem, beyond just meeting the physical needs of the occupants, then there is the setting for engaging with the trauma of the past and starting a positive trajectory **.
This is seen at Hope Street in the overall form of the building, which is conceived as a cluster of three houses rather than one large building, giving it human scale. The scale of internal spaces are generous but domestic. The finishes, lighting and specification are soft and tactile not clinical or institutional.
Safety is provided through natural surveillance, presence and layout rather than through CCTV, control and obvious security check points. Control is placed in the hands of women who are able to move freely and literally, 'have the keys' to their own homes, but reside in a community that they know to be secure.
Security, privacy, welcome and openness are blended to achieve the right balance in the right places acknowledging that public and privates places have differing requirements and choice is offered to meet individual needs. The legible transition from public to private has been carefully articulated.
A courtyard garden sits at the heart of the scheme
Building sustainably
Hope Street is on target to meet the top BREEAM 'Outstanding' rating. One Small Thing have sought to engage responsibly with the world and Hope Street's impact from an environmental standpoint speaks to this. It does this most obviously with excellent levels of thermal insulation, air source heat pump heat supply, natural daylighting and reducing the embodied energy of the fabric through a cross laminated timber frame.
However, social sustainability is even more centre stage at Hope Street in restoring the lives of the women through addressing past trauma. Hope Street is a place that women, caught up in the justice system, having experienced a wide variety of traumatic experiences, are able to work through past events with dedicated support and build sustainable life patterns going forward.
Hope Street mixes the sanctuary of a private healing trauma centre with a public cafe. At the heart of sustainability is how we learn to live together in the world. This projects seeks to offer a humane solution to that tapestry.
The articulated rear elevation of the public wing
The courtyard frontage of the residential accommodation.
Building in value
How do you spend money wisely in achieving the purposes of the client, what is important and how does this pass through the trauma informed filter?
It is important to state the answer to this is not to simplify the question to a level of monetary investment. Spending more money does not necessarily correlate directly with placing greater value on the women who are residents or increasing trust and achieving better healing outcomes. Perception is what matters.
Hope Street is not a luxury retreat but a healing environment that presents a homely environment, a place of belonging, for the duration of the stay. Therefore, it achieves these ends by building in quality through the use of high quality natural materials which reinforce the biophilic healing environment, but not such that the environment is detached or unrelatable to the real world.
How can a scheme convey quality with intent and care but remain relatable to those who may call Hope Street, home. Well, there are many ways but they include…
A rich, soft, rounded wooden front door handle that dispels the association with an institution on the front door step.
A beautiful cardboard dimmable pendant lampshade in the form of a beehive is a cheap material used intentionally in lieu of arrays of recessed strip or spotlights.
Greater acoustic separation and absorption that makes disclosing sensitive and traumatic experiences feel safer. This is an example of targeted spending of budget where it matters technically as well as aesthetically.
A fireplace in the communal lounge generates a domestic focal point that draws women into community and distinguishes the space from an institutional waiting room.
A lush landscape in the central courtyard brings nature into the heart of the healing environment, providing sanctuary and a biophilic aspect for the healing trauma spaces.
Good quality locally distinctive brick facades that are both familiar and respectful of context.
Generous rooflights and double height spaces that flood the interior with controlled natural light.
Building in service
The trauma informed design of Hope Street has been rooted in the lived experience of the women who might be resident at Hope Street and the building embodies the values and approach of the charity and healing trauma service provided by One Small Thing. The building however, is not the end in and of itself. It is a tool for building trust with the residents, to support healing and serves as a reminder to all those working with the women at Hope Street that this is a new approach.
Building in lessons learnt
Our hope is that this project will be a first that sets a standard for a new, more socially responsible type of building. Having listened, thought, and designed Hope Street, the next challenge is to review, listen, learn, communicate and take those lessons forward. That is the good work and fun to come…
* Brandi Tuck (Executive Director of Portland Homeless Family Solutions - TED talk)
** Designing for Healing, Dignity and Joy (Shopworks Architecture et al)
The offices have vaulted ceilings with exposed CLT.
The bridge acts as a break out space for staff, well connected to the lobby below and park across the road.
"What's certain is Snug Architects has designed a centre that restores the majesty of this part of the street and works contextually, while delving into the research and thought processes that mean the building creates the best possible opportunity for healing, progress and renewal too.
Isabelle Priest, RIBA Journal
Order a copy of our Trauma Informed Design Guide